There are significant shifts in the payment processing space, like higher customer expectations and increased competition, and modern SaaS platforms are looking for value-added services to delight their customers and generate new revenue opportunities. Processing payments is a logical extension, and while the benefits are undeniable, they're not always easy to promote to merchants.
Check out our tips to help you better position integrated payments to your customers at different stages of their journey and increase adoption and usage.
Jump to section:
Make your payments landing page pay off
We recommend platforms have a dedicated landing page on their website, especially those for which payments are a value-added service. It can be the centralized place to communicate the value of integrating payments to your merchants and answer common questions.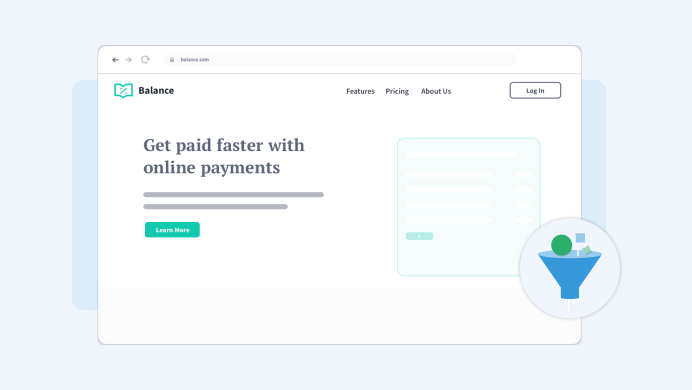 The best landing pages:
Create the most relevant content for your target customers based on variables like demographics, industries, professions, and more
Lead with benefits, not features, by focusing on how integrated payments solves specific pain points
Provide a single call to action that drives customers who already use your platform to sign up for payments
Critical features for your payments landing page:
A description of how payments work
An easy way for merchants to sign up directly
Include, or link to, robust FAQs to ensure customers can self-service their questions
The key benefits to your merchants (e.g., same-day deposits or fraud protection)
Add payments to your navigation bar
In addition to your homepage, you should provide easy access to more information about your payment processing offering on other parts of your website. Include a "Payments" section in your navigation bar to help you reach your payment sign-up goals.
Payments information should be discoverable - we suggest including it in a "Features" or "Product" dropdown
After a merchant clicks on Payments, be sure it leads to a dedicated landing page with an easy way for existing customers and net new customers to sign up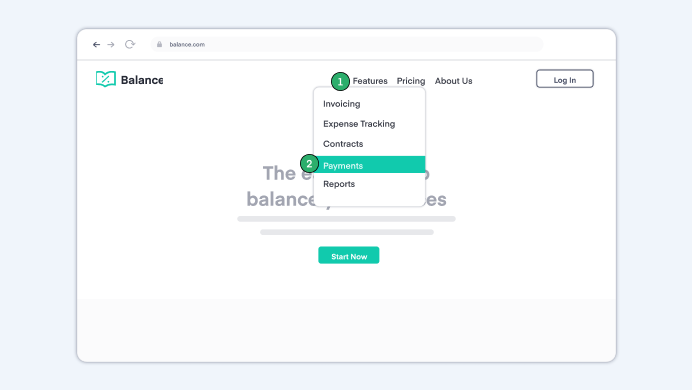 Let them try before they buy
Many merchants hesitate to invest in payment processing software without trying it out first. Offering merchants free trials can be an effective strategy to increase payment adoption by reducing barriers to entry, showcasing value, and building trust and loyalty. It allows merchants to experience the benefits of the payment platform firsthand. It also encourages them to continue using it beyond the trial period, leading to higher adoption rates and long-term customer relationships.
Promote payments throughout the customer journey
Don't forget to promote payments to merchants who may not have initially signed up. If a merchant does not register during onboarding, you should set up follow-up messaging about the benefits of accepting payments.
Moments of truth:
When your customers are setting up a sale
When you notice your customers have late payments
When you notice your customers are making many cash or check-based transactions
In the example below, we added a button to accept payments when creating an invoice. This can prompt a payment sign-up flow without forcing your customer to leave the invoice experience.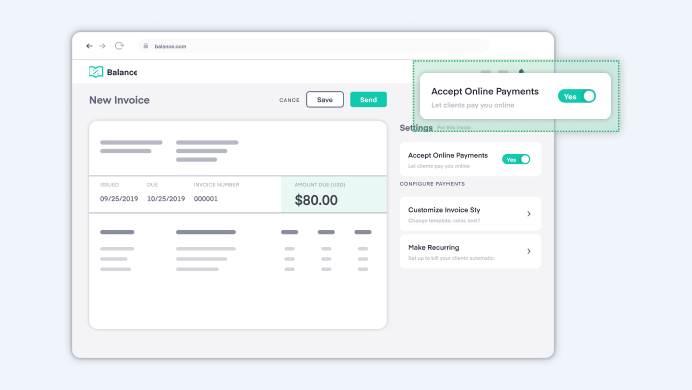 Partner with a payment processor that offers extensive marketing guidance
WePay by J.P. Morgan offers comprehensive tools to maximize your payment revenue. We can work together to position, promote and support your marketing efforts. We work hand in hand with our partner platforms and provide everything they need to promote payments to their customers, including tips, best practices, templates, and co-marketing opportunities.
We pride ourselves on providing superior customer support to our partners. Our three tiers of personalized customer support set you and your company up for long-term payment success while ensuring you are nurtured throughout our partnership.
We offer pre-built solutions powered by Chase to add instant credibility to your payment processing capabilities and white-label solutions with easy-to-integrate APIs.
We'd love to help you get the most from your payment solutions.