We sat down with TouchBistro founder and CEO, Alex Barrotti, recently to get his thoughts on TouchBistro's history, direction and how it has gone about its payments journey as well as how it came to partner with Chase and WePay.
Q: Can you tell us about TouchBistro: who its serves, what it does, and why it is special?
A: TouchBistro is an award-winning iPad POS built for restaurant people, by restaurant people – with every feature designed to meet the unique needs and fast pace of the foodservice industry. It has been used by over 12,000 restaurants worldwide in more than 100 countries, enabling them to make more money, deliver a great guest experience, and take the guesswork out of making business decisions.
Q: What's the TouchBistro origin story?
A: I was dining on the patio of my friend's sushi restaurant in the Caribbean when he asked for help to find technology that would reduce the amount of time his waiters were spending running back and forth to the patio to take orders, deliver food, and accept payments. The iPad was just launched. I thought it was the perfect form factor for a waiter to take to a table and enter orders – like an order pad – but I found there were no restaurant point-of-sale apps for the device. So I returned to Toronto, met my co-founder, and pulled together a team of talented designers. A year later TouchBistro was launched as a pioneer mobile POS explicitly for restaurants.
Q: What's an operating lesson you've learned that you often share with others?
A: Success isn't easy. Edison said invention is one percent inspiration and 99 percent perspiration. The inspiration happens in a moment, but then it takes years and years of fine tuning, being resilient, and following through on a plan, while encouraging others to share the vision and dream.
You need courage to pursue things despite other people saying it is never going to happen or you can't do it. It is so easy to be a skeptic or give up. But what is the challenge in that? I disagree with the negativity. You have to ignore the naysayers, watch the trends, and believe in yourself and take action.
Q: What metrics do you pay attention to for business success?
A: Restaurants that use TouchBistro processed over $6 billion in the last year, which is pretty exciting growth from our launch just seven years ago. This March, we onboarded the highest number of new restaurants we've ever had in a single month – just under 500.
Q: When you look to other companies for inspiration, which are you looking at and why (other than Apple)?
A: There are several companies that have grown in the face of massive competition – they are truly inspiring. Spotify came up with the idea of music streaming and subscription-based music downloads. It looked like they were going to be wiped out when Apple, Goggle Music, Amazon Prime all came out with similar services, but Spotify is still growing and just had a successful IPO. And Look at Dropbox. They were called the company everyone was trying to kill as the giants came out with their own cloud storage services - Google Drive, Amazon Drive, Microsoft OneDrive. But Dropbox just had a hugely successful public offering.
These companies had brilliant visions that were first-to-market. They had plans that they fine-tuned and followed through implementing. Despite ginormous opposition trying to carve away at their market share, they stuck with it and were tremendous successes.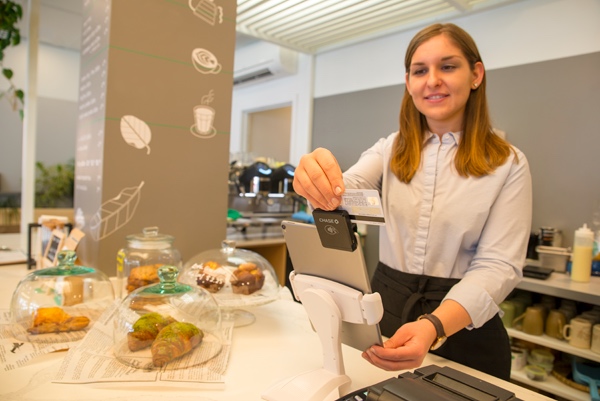 Q: You recently announced you'll be introducing TouchBistro Payments powered by Chase, leveraging WePay technology. What led you to take this step?
A: We wanted a seamless experience, frictionless for the customer. So many customers call us on a Wednesday and say they are opening on Friday. We could get them up on TouchBistro immediately, but it could then take a week or more to get their payment processor operating and this delay was a problem because 85% of transactions in the US are credit card.
The WePay-Chase team offered us the most compelling solution to provide customers with the seamless experience we wanted to deliver. With TouchBistro Payments powered by Chase, we can offer instant onboarding, integration with other Chase banking services, and a payment device we are launching together that can accept all traditional and mobile payments right at tableside
Q: What's next for TouchBistro?
A: We will continue to expand our customer base by doing what we do best – providing restaurateurs with an intuitive POS at an affordable price that makes running a restaurant easier by streamlining and simplifying all aspects of restaurant management – so restaurateurs have more time to focus on their passion and the reason they opened their business in the first place.
Q: And of course we've got to ask a person that serves restaurateurs all day - what's your favorite kind of food?
A: Sushi