Why digital payments?
The way customers pay is changing fast. And though it may sound harsh, businesses that haven't enabled digital payments are at real risk of being left behind.
It all starts with consumer expectations. Today, almost 90% of Americans are using some form of digital payment, a trend that's only poised to accelerate.¹ Additionally, nearly 75% of customers prefer digital payments to more traditional methods.²
There are a wealth of other advantages to enabling integrated payment processing for your business. Digital payments save time and money on manual processes, such as paper invoices and checks, streamline cash flow, and help owners to focus on growing their business instead of chasing payments. It's hard to get business owners to align on anything, but a full 68% agree digital payments have made their operations more efficient.³
The takeaway is clear. Digital payments are ubiquitous and popular, and both business and individual buyers expect them. If you haven't enabled the option, the time is now.
---
Jump to section:
---
Four advantages of enabling digital payments
You make it easier for your customers to pay while creating efficiencies across your business.
Meet the expectations of your customers
Digital payments support online, mobile, and card-present payments seamlessly – giving your customers the frictionless experience they've come to expect and giving you a higher conversion rate.
For example, TouchBistro powers its restaurant management platform with payment processing tools, including POS systems and web-based tools that support online ordering, reservations, loyalty services, and more.

Improve cash flow and receive faster payouts
Since digital payments are made electronically (and no bank branch visits are required), funds are transferred much faster than with checks. And that means more cash available to run your business.

Reduce the cost of payment processing
Digital payment methods are typically less expensive to process than cash. So when you incorporate integrated payment solutions, you'll see savings on your invoices.
Consider all-in-one accounting and invoicing software, FreshBooks. We power their payments allowing their customers to set up subscription billing for recurring payments and get paid 2x faster.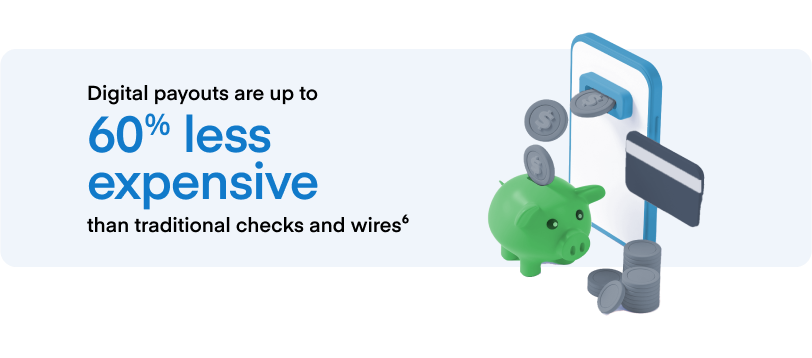 Save time with automated processes
Processing payments traditionally takes a lot of time for businesses to manage. With digital payments, many repetitive and manual tasks are automated, giving you more time to focus on other vital areas of operations.
Construction management platform Buildertrend integrates our APIs to allow builders, remodelers, and contractors to manage their finances and move money without wasting time on tedious tasks like manual reporting and tracking.

The long view: Digital payments generate (really) valuable customer data
In addition to providing convenient payment options, digital payment technology also gives businesses like yours another way to capture valuable customer data. This data can be used to gain insights into your customers' preferences, behaviors, and needs – so you can better serve them.
Ready to enable digital payments? Talk to your software vendor about their digital payment solutions and how they can help you. To explore your options, learn more about platforms that partner with WePay by J.P. Morgan.
Sources
"Majority of customers prefer digital payments." RetailCustomerExperience.com, Feb. 22, 2022. retailcustomerexperience.com/news/majority-of-customers-prefer-digital-payments/
"Consumer trends in digital payments." Lindsay Anan Serves, Jeana Chen, Deepa Mahajan and Marie-Claude Nadeau, McKinsey & Company, Oct. 21, 2022. mckinsey.com/industries/financial-services/our-insights/banking-matters/consumer-trends-in-digital-payments
"40% of Middle Market Firms Say Digital Payments Innovations Have Improved Customer Satisfaction." PYMNTS, Jan. 31, 2022. pymnts.com/news/payments-innovation/2022/40-pct-of-middle-market-firms-say-digital-payments-innovations-have-improved-customer-satisfaction/.
"Payments 2025 & beyond: Navigating the payments matrix." PwC. pwc.com/gx/en/industries/financial-services/publications/financial-services-in-2025/payments-in-2025.html
"What is driving the adoption of digital payouts?" Sara Khairi, Tearsheet, Dec. 20, 2022. tearsheet.co/payments/what-is-driving-the-adoption-of-digital-payouts/
"Digital Payment Services: The Importance of Fast Payments." Seamless Chex. seamlesschex.com/blog/digital-payment-services-the-importance-of-fast-payments.
"Accounts Payable Automation, And Succeeding With Its Implementation." Peter Nesbitt, Forbes. forbes.com/sites/forbesfinancecouncil/2023/01/23/accounts-payable-automation-and-succeeding-with-its-implementation/
"24 Buy Now, Pay Later Statistics for 2023." Brigitte Hodge, Fit Small Business, Feb. 10, 2023. fitsmallbusiness.com/buy-now-pay-later-statistics/
"Alternative Methods of Payment (AMOP)." Lucas Downey, Investopedia, Jan. 24, 2022.. investopedia.com/terms/a/alternative-methods-payment-amop.asp
"Consumer trends in digital payments." Lindsay Anan, Jeana Chen, Deepa Mahajan and Marie-Claude Nadeau,, McKinsey & Company, Oct. 21, 2022. mckinsey.com/industries/financial-services/our-insights/banking-matters/consumer-trends-in-digital-payments